The Philbrook Museum of Art is a real place in the House of Night Series.
It is located on 2727 S. Rockford Road, Tulsa, Oklahoma 74114.
"
Kristin and I have loved the fabulous Philbrook Museum for years and years. Some of our favorite memories were made there: The Celebration of Trees during the holidays, Sunday brunch at LaVilla restaurant, Shakespeare on the Grounds, Film Fridays in the summer, and finding treasures in the gift shop. This is one Tulsa stop that is just as magickal in the real world as it is in the HoN world!
"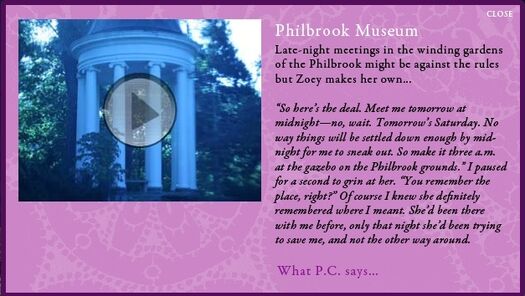 Philbrook Museum Mission Statement
Edit
"Philbrook strives to be an essential and exceptional participant in the cultural, educational, and economic life of a growing and diverse constituency. Defined by a unique combination of tradition and innovation, our collections, historic structures, programs, and exhibitions are dedicated to inspiring the broadest possible public engagement, access, and service."[1]
The Philbrook Story
Edit
"Villa Philbrook was a child of the Twenties. World War I was over. Women could vote. It was a time of flappers, rumble seats, prohibition, bootleggers and five-cent Cokes. More than that, in Tulsa the Twenties smelled of oil and resounded with money. In 1926 Edward Buehler Delk (1885–1956), a Kansas City architect, was hired to design an Italian Renaissance villa on 23 acres by oilman Waite Phillips. Delk skillfully interpreted Renaissance styles in the most fashionable manner of the day and was hired in a burst of commissions with three major projects at once: Villa Philbrook, Villa Philmonte and the Philtower office building. This impressive home was completed in 1927. Friends say that the Phillipses built the villa as a place where their two children could entertain friends. When they moved in, daughter Helen was sixteen, son Elliott was ten.

The vision first made possible by Waite and Genevieve Phillips is now one of America's finest art museums.

In 1938 Waite Phillips surprised Tulsans with the announcement of his gift of the 72-room mansion and surrounding 23 acres of grounds as an art center for the city of Tulsa. The vision first made possible by Waite and Genevieve Phillips is now one of America's finest art museums. The integrity of the original residence remains intact while later additions to the facility and gardens complete this classic Tulsa attraction.

Serving an average of 150,000 visitors annually, Philbrook has become a poignant testimony to Tulsa's past while building a shining example of this city's bright future. Through the generosity of Trustees, Donors, and the George Kaiser Family Foundation, Philbrook opened a new satellite facility in Tulsa's Brady Arts District on June 14, 2013. Philbrook Downtown features the Museum's growing collection of Modern and contemporary art as well as highlights from the Native American collection, and includes the Eugene B. Adkins Collection and Study Center.

What began as an unprecedented gift to the city of Tulsa by the Phillips family continues today through the generosity of Philbrook Members and Donors year after year, making relevant art programming accessible to all."[2]
References
Edit
↑ Philbrook Museum Mission Statement. Philbrook Museum offical website. Retrieved 15 August 2013.
↑ Philbrook Museum Story. Philbrook Museum offical website. Retrieved 15 August 2013.
Ad blocker interference detected!
Wikia is a free-to-use site that makes money from advertising. We have a modified experience for viewers using ad blockers

Wikia is not accessible if you've made further modifications. Remove the custom ad blocker rule(s) and the page will load as expected.