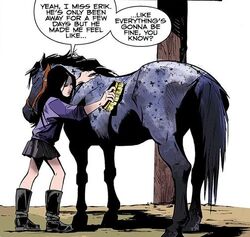 Persephone is the horse assigned to Zoey Redbird in Equestrian Studies class by Lenobia. Zoey often goes to the stalls to comb her mare for a calm, quiet place to think. She is a sorrel horse that is gentle and calm. She appears throughout the books.
Books
Zoey first meets Persephone and remembers her horse when she was a child, Bunny. She took care of Bunny until he passed away. Zoey remembers how calming it is to brush a horse. She has an instant connection with Persephone and talks to her often.
After Zoey finds out about Heath Luck's disappearance, she goes to Persephone for comfort. Erik Night gave her advice on how if Heath and Zoey's Imprint is strong enough, she should be able to locate him. Zoey does locate him and he is in the Prohibition-era Tunnels. Aphrodite LaFont shows up to tell Zoey she had another vision; this time about Heath's death. She tells Zoey to take the horse to the tunnels to save Heath. Zoey does as she says and Heath is saved.
Persephone is one of the horses, the others being Hope and Destiny,  used to escape the House of Night, along with Hope and Destiny. Persephone carries Zoey Redbird and a very frightened Damien Maslin, while Hope carries Aphrodite LaFont and Darius, and Destiny carries Erin Bates and Shaunee Cole.  Before the gang escapes the House of Night, Lenobia uses her goddess-given affinity for horses to tell Zoey that Persephone loves her.