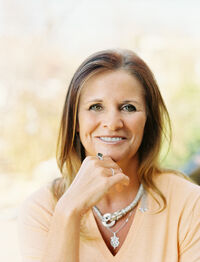 P.C. Cast is one of the authors of the House of Night Series, along with her daughter Kristin Cast.
P.C. Cast was born in the Midwest, and grew up being shuttled back-and-forth Illinois and Oklahoma, which is where she fell in love with Quarter Horses and mythology. She taught high school for 15 years before retiring to write full time. Ms Cast is a New York Times Best -Selling author. She lives in Oklahoma with her daughter Kristin, her spoiled cat, and her adorable Scotties!
Bibliography
House of Night Novels
House of Night Novellas
House of Night Other World Novels
Loved, 2017
Images
Ad blocker interference detected!
Wikia is a free-to-use site that makes money from advertising. We have a modified experience for viewers using ad blockers

Wikia is not accessible if you've made further modifications. Remove the custom ad blocker rule(s) and the page will load as expected.