Home
Talk

10
217pages on
this wiki
Welcome to House of Night Wiki,
a database about the House of Night novel series by P.C. and Kristin Cast that anyone can edit!
WARNING: This wiki reveals plot details, so read at your own risk!
We are currently editing 217 articles with 266 pictures and files and we want you to help!
Check out our new page Fan Made Pictures! Maybe even add a few! Have fun!

If you're looking to edit this wikia, please start by looking in the Needs Further Editing category
available in the Community section of the navigation bar above. Thank you!
House of Night Books
House of Night Novellas
Featured Article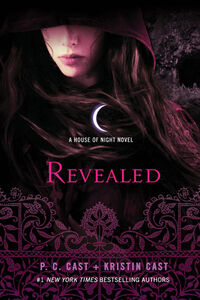 Revealed is the upcoming 11th book in the House of Night Series. The House of Night series is an international phenomenon, reaching #1 on U.S., German, and UK bestseller lists, and remaining a fixture on The New York Times Children's Series bestseller list for nearly 150 weeks and counting. With more than 12 million copies in print, rights sold in thirty–eight countries to date, and relatable, addictive characters, this series is unstoppable. Now, in the eleventh and penultimate installment of the series, the action is more intense and the stakes even higher as Zoey and her friends battle to protect their school and home from devastating evil—all while balancing romances, precarious friendships and the daily drama of the House of Night's halls.

Revealed was released on October 15th 2013!
[Read More...]
News
Head over to see admin Shingintopez if you've got any questions regarding this wiki!
Kalona's Fall, the fourth novella, is set to be released on July 29th, 2014!
Redeemed will be released October 14, 2014!
Negative, provocative, or foul language (such as profanity, racial slurs, etc.) will not be tolerated in the comments or talk pages. The comment(s) will be removed and the user may be banned. Thank you.
Featured Poll
Are you excited about Kalona's Fall, coming July 29th, 2014?
Favorite Book Poll
Which book is your favorite so far?
Favorite Novella Poll
Which novella is your favorite so far?
Who is the right guy for Zoey Redbird?
Who do you think should be the love of Zoey's life?