The Gilcrease Museum is where Stevie Rae Johnson hides Raven Mocker, Rephaim in Burned and Awakened.
"
Okay, the Gilcrease Museum and mansion are really on the Tulsa Ghost Tour (which Kristin and I have gone on!). The museum is haunted and wonderful, and it is set on acres and acres of beautiful, wooded grounds. There is a Gilcrease manor in the middle of the grounds, and it is much as I describe – big wrap-around porch, rooftop balcony, fountain in the front yard. But it isn't a ruin anymore. The house has undergone renovations.
"
Some Facts About Gilcrease
Edit
It is located northwest of downtown Tulsa, Oklahoma
The museum houses the world's largest, most comprehensive collection of art of the American West
Has a growing collection of art and artifacts from Central and South America
The museum is named for Thomas Gilcrease, an oil man and avid art collector
Themed gardens have been developed on twenty-three of the museum's 460 acres
These gardens enhance the museum's collections by reflecting gardening styles and techniques from four time periods in the American West: Pre-Columbian, Pioneer, Colonial, Victorian, as well as a rock garden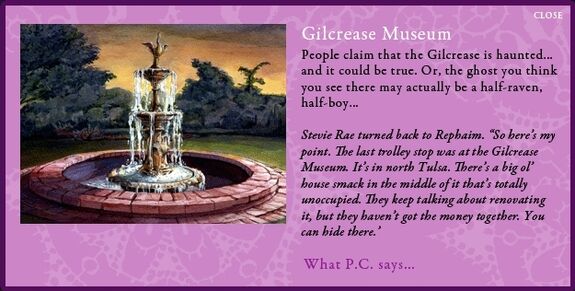 Ad blocker interference detected!
Wikia is a free-to-use site that makes money from advertising. We have a modified experience for viewers using ad blockers

Wikia is not accessible if you've made further modifications. Remove the custom ad blocker rule(s) and the page will load as expected.