Cascia Hall is what the House of Night is in real life! It is located on 2520 South Yorktown Avenue, Tulsa, Oklahoma.
"
The real HoN setting, Cascia Hall, is located where I describe it in the books, and much of the main buildings are as I describe them – the old imported stone and the castle appearance. I do take several liberties and have fictionalized quite a bit of the campus. For instance: there is no stone fence that encloses it and no stables (though at my last Tulsa book event one of the Cascia students told me she really wished that part of my description had been true!).
"
What is Cascia Hall?
Edit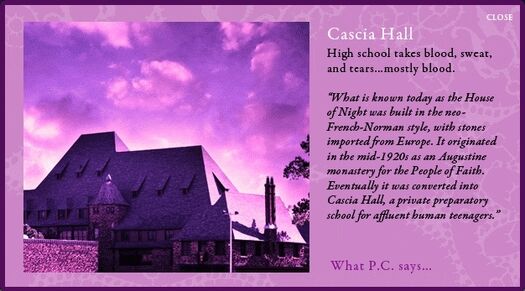 References
Edit
Ad blocker interference detected!
Wikia is a free-to-use site that makes money from advertising. We have a modified experience for viewers using ad blockers

Wikia is not accessible if you've made further modifications. Remove the custom ad blocker rule(s) and the page will load as expected.