The Ambassador Hotel is part of the Tour of Tulsa! It hosts Sylvia Redbird's favorite restaurant: The Chalkboard.
"
I love the Ambassador Hotel! It's a super chic boutique-style hotel that has fabulous, friendly people working there and incredibly soft beds! The Chalkboard is the restaurant in the basement of the hotel, and I swear it serves the best crème brulee in town! You can always tell whether a hotel's restaurant is any good by the amount of locals you can find there – well, I can tell you my friends and I can be found there regularly!
"
About the Ambassador Hotel
Edit
Check out their website!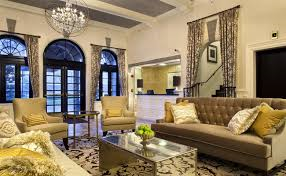 Ad blocker interference detected!
Wikia is a free-to-use site that makes money from advertising. We have a modified experience for viewers using ad blockers

Wikia is not accessible if you've made further modifications. Remove the custom ad blocker rule(s) and the page will load as expected.